The word sortie is associated with military operations. But it is an election term in the Philippines. It refers to province-wide, region-wide, and city-wide campaign activities of a party in one day. It is a traditional election ritual, a tried and tested campaign tactic. It tests the efficiency of a party's election machinery; it measures the popularity of candidates. An election sortie is like a combat operation. Candidates aim to gather solid votes in a specific territory while viciously attacking their rivals.
Last Friday we joined the Cavite sortie of Nacionalista Party. Cavite is the most populous province in the country. It is definitely a vote-rich province. Is this the reason why the 'transformers' duo kicked-off their campaign in Cavite?
It is a good time to be a politician in Cavite these days. In 2007 the province was divided into three legislative districts. Today it has seven districts. Local tension has been defused. Fierce rivals are now 'friends' because they won't have to face each other anymore in the local polls.
Where did we campaign in Cavite? We arrived at Island Cove Resort around 6am. After breakfast, we went to Rosario fishport. Rosario is a famous enclave – the Cavite Export Processing Zone is located in this municipality. It has 60,000 voters. Kabataan Partylist has a chapter in Rosario.
Then we motored to Tanza, a town with 78,000 voters. It used to be a popular beach resort town in Cavite. An hour-long program was held in Julugan, Tanza. Manny Villar, Loren Legarda and the senatoriables of the Nacionalista Party spoke in the program. I was briefly on the stage when I was recognized by the emcee.
Next stop: Naic. Candidates attended a mass service at Immaculate Concepcion Parish Center. Our team had our lunch at a nearby eatery inside a tricycle terminal. From Naic, the Kabataan Partylist team proceeded to General Trias and Langkaan, Dasmarinas. We did a brief handshaking and palengke tour in these places. I was quite surprised that there are still agricultural areas in Dasmarinas. But many are idle or idled. Perhaps a better land use code is needed. Our last stop: General Mariano Alvarez. The Cavite sortie ended around 8pm.
Our team is satisfied with our campaign sortie in Cavite. It allowed us to reach many barangays where we don't have a presence or chapter. We met several youth groups and local leaders of the province. We also learned some new campaign tips, or tactics that need to be improved. For example: during a sortie, we need to identify not just vote-rich villages but also the location of big schools. We need more energetic volunteers who will distribute pamphlets, leaflets, and posters. A megaphone or portable sound system is essential when conducting a house-to-house campaign.
The Cavite sortie was the first time I participated/witnessed a presidential campaign rally. Miriam Santiago was the best speaker. Perfect soundbytes, great delivery: "Pagkatapos mabigyan ng trabaho ang mga Pilipino, magpapagawa ako ng mas malaking kulungan para sa mga kurakot." Adel Tamano sang 'Bakit ngayon ka lang?' Loren chose a song by The Carpenters. The son of Ariel Querubin sang Harana. Toots Ople's slogan is interesting: "You can't spell People without Ople." Pia Cayetano biked her way to Cavite. Liza Maza interrupted her speech by reading a txt message about violence against women. Villar asserted the truthfulness of the words used in his very memorable ad (nakaligo ka na ba sa dagat ng basura…)
Check the Flickr page of Bikoy for more pictures of our Cavite sortie.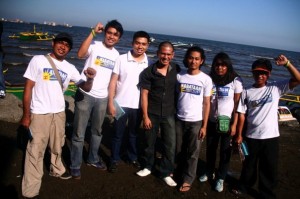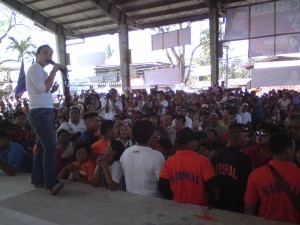 Related articles:
Senate race: a virtual campaign
2007 election notes
2007 candidate survey
Rosario EPZA