If a solon is not inside the plenary hall during session days, he/she could be…
a. absent (nasa district? nasa isang official trip? nagbabakasyon?)
b. late (dumarating ang marami after 5pm)
c. somewhere in batasan (inside the office entertaining guests and constituents, speaker's office receiving or asking for official instructions, mitra hall participating in an extended committee hearing)
d. inside the members only lounge
The south wing lounge is an exclusive room for members of congress. It is a mysterious place. It functions as the 'other plenary' where legislative and political matters are discussed. This is also the room where lawmakers take their merienda or light dinner. There is also a smoking room and wash room inside the lounge.
My constituents are curious about the food we eat inside the lounge. Below is the list of food items we consumed in the past month:
December 15, 2009 Tuesday – pork barbecue, chicken barbecue, molo soup, puto binan, pansit guisado, fresh lumpia ubod, hamon, bibingka, spanish sardines, keso de bola, puto bumbong
January 18, 2010 Monday – pansit guisado, tuna panini sandwich, fried lumpia, chicken barbecue, pork barbecue, chicken and shrimp molo soup, assorted kakanin, buko pandan
January 19, 2010 Tuesday – roasted pumpkin and sweet potato soup, lasagna beef, bolognese sauce, chicken lollipop, potato chips, honey mustard sauce, tuna and cheese sandwich, herb garlic bread, ham and cheese sandwich, chocolate cake, fruit salad
January 20, 2010 Wednesday – pork siopao, pork siomai, chicken siopao, chicken siomai, westlake soup beef and tofu, chicken and mushroom efu noodles, lumpia sariwa, banana fritters, pichi-pichi
January 25, 2010 Monday – lugaw, ox tripes, bami guisado, vegetable ukoy, tokwa't baboy, empanada, halo-halo, cheese rolls
January 26, 2010 Tuesday – frankfurt sausage, chili con carne, chicken sausage, fish and chips, chicken asparagus soup, spaghetti noodles, putanesca sauce, three mushroom sauce, blueberry cheesecake, mango crepes
January 27, 2010 Wednesday – beef brisket, chicken soup stock, seaweeds with century eggs, seafood rolls, lumpia shanghai chicken, tuna asado, lumpia shanghai pork, bacon asado, brazo de mercedes, almond with lychee
February 1, 2010 Monday – chicken macaroni soup, pancit malabon, pork chicharon, camaron calamares fritos, lumpiang bacolod, mini pandesal, spanish sardines, pork dinuguan, puto binan, suman pinipig, ginataang halo-halo, sago at gulaman.
February 2, 2010 Tuesday – cream of mushroom soup, pasta with bolognese pinoy style or roast vegetable and tuna, southern fried chicken, steamed buttered corn in cob, tacos with cheese tomato salsa, sour cream, beef, roast beef panini sandwich, cheese puff, banana coffee cake, sweetened banana
February 3, 2010 Wednesday – miso soup, chap chae, vegetable kakiage, grilled chicken teriyaki, japanese chicken siomai, sushi and maki, japanese pork siomai, caramel cake, avocado ice cream, vanilla ice cream
Everyday, there are fresh fruits (banana, pineapple, watermelon, papaya, manga) and mixed greens with italian, thousand island, or caesar dressing. Members can ask for coffee, tea, soda, bottled water, and red wine (even brandy). I think red wine is available only during the last few days before the end of regular sessions.
The normal procedure in the lounge: A lawmaker will select his/her preferred food items. Then the lawmaker will look for an unoccupied seat in the lounge. The food will be delivered by a waiter. Members also have the option to get the food directly from the food table. This allows us to eat in one sitting our desired food serving.
A special dinner is offered before Congress goes into recess (June, September, and December). A sample of the special menu: tuna or salmon sashimi, egg caviar salad, steak – medium rare, well-done with mashed potatoes, lechon, babyback ribs, maya-maya steamed fish, mixed slices of meat.
Lunch is provided by the speaker at the conference hall during the president's annual state of the nation address. Sometimes, lawmakers celebrate their birthdays by contributing a few native delicacies in the lounge food table. During budget season, the lounge is open and lunch is available for members and special guests.
Since a perfect attendance is rarely achieved, what happens to the excess food? I believe it is distributed to Congress offices. Or in the case of kuripot lawmakers like me, I bring home some food items. After session is adjourned around 7:30-8pm, I always ask one of my staff members to accompany me in the lounge.
I thank the waiters, cooks, and helpers who provide us with excellent and gracious service inside the lounge. I hope to see them again on May 31 when Congress resumes session to canvass the presidential election results. I wish them well knowing that they don't get paid when Congress is not convened.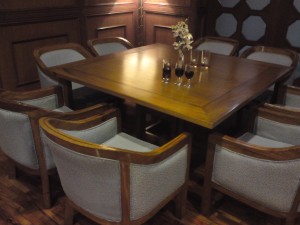 Related articles: