Batasang Pambansa, the so-called House of the People, where the President of the Republic delivers his annual state of the nation address, is symbolically close to Payatas dumpsite. Batasan is also surrounded by urban poor communities and exclusive subdivisions. Chaotic zoning? It's urban planning, Philippine-style.
Payatas, which was recently converted into a controlled dumping facility, is adjacent to residential communities. It's also close to La Mesa reservoir which supplies Metro Manila's water needs. Our drinking water can be called Payatas Juice.
Ayala Alabang, the home of the filthy rich in Philippine society, is located near the New Bilibid Prison in Muntinlupa. Bilibid houses the country's most notorious murderers, rapists, and other criminals (both guilty and innocent). Are there criminals in Ayala Alabang like tax evaders, smugglers, drug lords (plus other 'lords'), and bosses of organized crimes? Maybe it's an extension of Bilibid?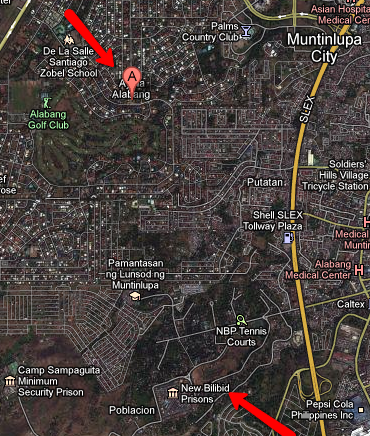 Quiapo Church, an important and famous Catholic institution, is a few blocks away from Metro Manila's Golden Mosque and Cultural Center. It's funny that google identified the place as Quiapo DVD. Protest actions are often conducted in the busy intersection of Legarda-Mendiola. But this is because police forces are preventing the militant groups from staging a rally in front of the Malacanang Palace near Gate 7. But rallies should be allowed in the freedom park in San Miguel near the presidential palace and Malacanang Park beside the president's bachelor house in Bahay Pangarap.
Ever wonder why PUP sometimes suspends classes even if there is no typhoon or flooding? It's because of the gas leak from the oil depot in nearby Pandacan. The oil depot is surrounded by residential communities, schools, churches, and commercial centers. It poses a security threat even to Malacanang.
Smokey Mountain, Manila's poverty symbol during the Marcos years, is now known as 'Former Smokey Mountain Dumping Site'. It's part of Tondo, the city's working-class district. Near Smokey Mountain is the country's busiest port. Tondo General Hospital is also in the vicinity. Navotas Fishport operated near a dumping site?
Demolish San Roque community because it's now a commercial zone? But on the left side of Edsa in the same area is a residential subdivision, Philam. Will they demolish it too? There is enough space in the 'triangle' area to build a medium-rise housing complex.
Ayala has no problem if residential subdivisions like Dasma, Urdaneta, Forbes exist within Makati's central business district. Today, Ayala wants to demolish San Roque in Quezon City to expand the Makati world (Trinoma means Triangle North of Makati). It's easy to propose the eviction of the poor from their homes but the rich, it seems, are safe in their ancestral domain because city planners are afraid to antagonize the propertied classes. Meanwhile, the poor are reprimanded for blocking the progress of the community.
This is Hacienda Luisita, the biggest family-owned farming estate in Southeast Asia. One of the owners is President Noynoy Aquino. His family still refuses to distribute the land to small farmers which was a commitment made several decades ago.
Panglao Island in Bohol is the next Boracay. But aside from being a famous tourist destination, it's also a marine sanctuary. The government will build an international airport in this small island to attract more visitors. It could destroy the natural beauty of the place. Why not just expand Tagbilaran airport?
Apparently, this was the mining site of the company which was recently attacked by NPA rebels. The satellite image shows what could probably be the extent of environmental destruction in the mountain because of mining activities