Thirteen speeches in three years covering a broad range of topics such as education reform, labor rights, student welfare, environment protection, internet freedom, and nationalism. Salamat Carl, JM, Sarah, Bugsy, Rubelh, Marjo, Lean at sa lahat ng bumubuo sa @kabataanpl
1. The Tragedy of Philippine Education, May 18, 2009. First speech tackled the core legislative agenda of Kabataan Partylist: Education Reform. We highlighted the rising cost of schooling, deteriorating quality, and the thrust to privatize public higher education. Trivia: I took my oath as Member of Congress the following day, hehe, nauna ang speech kesa sa formal induction.
Mr. Speaker, I rise on behalf of fellow young Filipinos who are being robbed of their right to education and their future.

Unless the government reverses its present education policies and its thrust to hand over tertiary education to the private sector and until it flexes its muscles to stop the unabated hikes in tuition and other fees, it will certainly bury the confidence, hopes and great faith of the Filipino youth and the nation for a brighter future ahead.
2. The Call of Call Center Agents, August 17, 2009. Our effort to remind Congress and the public about the other side of the BPO sector, the country's so-called Sunshine Industry
Isn't it ironic, Mr. Speaker, how our call center workers are rendered voiceless in a voice industry?
3. Who Owns Malacanang? August 26, 2009. The speech also made mention of the infamous Le Cirque dinner of Arroyo and company in New York. But the main issue was about the unjustified policy of dispersing protesters near Malacanang
Sino ba ang nagmamay-ari sa Malacanang? Bakit off limits sa mamamayan ang tahanan ng kanilang pinuno? Bakit hindi puwedeng katukin ng mamamayan ang pinakamataas na opisina ng bansa upang iparating ang kanilang mga hinaing? Kakatwa ngunit mas higit na nakalulungkot na sa beinte pesos na lamang natin nasisilayan ang Palasyo.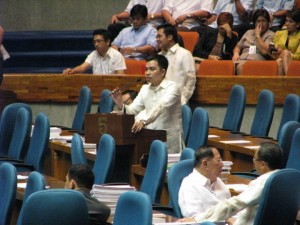 4. She-Who-Cannot-Be-Named-In-The-Plenary, August 4, 2010. My first speech in the 15th Congress and also my personal favorite. Harry Potter provided the inspiration on how to criticize Arroyo without mentioning her name which was still a taboo word during the early days of the new Congress
Today, there seems to be this worrisome obsession to find "unparliamentary" words in our speeches. It might send a bad signal to other members, especially to new members, that privilege speeches about the past government is ok, as long as they are not unpleasant to the ears of the supporters of "She-Who-Cannot-Be-Named-In-The-Plenary."
5. On Campus Strikes, November 30, 2010. I announced the historic campus strikes which would take place the following day in most campuses of the country's state universities. The protest was against the budget cuts imposed by the Aquino government.
…tomorrow's campus protests will be different. For the first time in Philippine history, students, teachers, school personnel and university officials will hold a united stand in their respective campuses nationwide. Political bickering inside schools will be set aside for the meantime so that the public higher education sector will speak as one voice tomorrow.
6. Edsa Babies Unite, February 23, 2011.
I rise to speak about the 25th anniversary of the 1986 People Power and its impact on young people.

Thus I make this appeal to my fellow youth: Let a hundred unofficial People Power activities bloom. Let a thousand People Power debates contend. Bombard Edsa with our demands for genuine change, freedom, and pro-people governance.
7. The State of Philippine Education, May 30, 2011. Response to the joint forum of Deped, Ched, and Tesda about the challenges confronting the education sector.
Clearly, the policies that govern our education sector have to undergo a merciless rethinking in order to save the hope our youth possess. Without breaking away from education measures that compulsively fuel the very same problems we've had since time immemorial, we cannot expect to provide quality and accessible education for our youth
8. The Right to Strike, September 26, 2011. After the successful campus strikes in state universities, Malacanang urged students not to participate in rallies. This was our response.
Encouraging the youth to study better isn't wrong. What is unacceptable is the refusal to recognize that the youth become better educated if they are also immersed in the social and political affairs of the country. We need more student strikers, not less.
9. End the Killings of Environmental Activists! January 25, 2012.
Recently, our government proudly launched a tourism slogan "It is more fun in the Philippines" to promote the natural wonders of our country. This slogan, I am afraid, is blood-stained in light of the killings of environmental advocates like Doc Gerry, who precisely worked for the protection and preservation of our country's natural beauty.
10. Protect our Internet Freedom, February 13, 2012. Months before the rise of the anti-cybercrime movement, we reminded Congress to pass laws that would protect and promote internet freedom
What we should prevent is the introduction of measures that would restrict our ability to share information in the offline and online spheres. We shouldn't allow paranoia to deceive us into passing laws that are aimed at weakening the people's right to free expression and information. Congress should be more vigilant and aggressive in expanding our internet freedom. Congress must uphold the enactment of laws that would strengthen, rather than weaken, access to information and the Internet.
11. No to Subic Coal, May 21, 2012. Speech delivered after our consultation with Subic residents. We also filed Writ of Kalikasan petition.
But how long can Subic retain its appeal if the environment threats are not adequately addressed today? Will Subic continue to attract tourists if a coal plant is allowed to destroy not only the scenery but also the ecological balance in the area?
12. Ending the Culture of Violence, August 1, 2012.
The continuing proliferation of fraternity-related violence and the lack of convictions for perpetrators is a reflection of a society that condones a culture of impunity; a society where human rights violators run free and political activists get caught behind bars. To resolve this issue, we must remind our youth of the real value of organizations – and that is to band together for a common cause that will ultimately benefit, and not downgrade, society.
13. Ang Hindi Matapos-tapos na Himagsikan ni Gat Andres Bonifacio, November 26, 2012
Dumaan man ang mga dekada, magpalit-palit man ng administrasyon, wala pa ring pagkatapos ang himagsikang inilunsad ni Gat Andres Bonifacio.

Sa darating na Biyernes, ating gugunitain ang ikasandaan at apatnaput-siyam na kaarawan ni Gat Andres Bonifacio. Hudyat ito ng pagsisimula ng selebrasyong Bonifacio@150 – isang buong taong pag-alala at pagkilala sa ambag ng dakilang Supremo sa sambayanang Pilipino.

Higit sa lahat, panawagan rin sa kabataan na isabuhay ang mga aral ni Bonifacio, na patuloy na makialam at makisangkot sa mga isyu sa lipunan. Alalahanin natin kung anong kayang gawin ng sama-samang pagkilos, at huwag nating hayaang malunod ang ating ideyalismo sa alon ng naghaharing sistema.